Upper Savannah Staff Hosts Workshop on CDBG, EDA, Rural Infrastructure Funding
Upper Savannah COG staff sponsored a Community Development Workshop where close to 50 attendees learned details about Community Development Block Grant (CDBG), Economic Development Administration (EDA) and Rural Infrastructure Authority (RIA) funding.
Forty-two attended the workshop in person at Ninety Six First Baptist Church on Jan. 12 while five participated virtually.
The counties of Abbeville, Greenwood, McCormick and Saluda; the cities of Abbeville, Clinton and Greenwood; the towns of Calhoun Falls, Due West, Edgefield, Gray Court, McCormick, Ridge Spring, Troy and Ware Shoals; the Greenwood, Laurens, Ninety Six and McCormick commissioners of public works (CPWs); and the Greenwood Metropolitan District, Laurens County Water and Sewer Commission, and Saluda County Water and Sewer Authority were represented.
Many of those represented have successfully applied for CDBG grants and have completed projects. But USCOG Community Development Project Manager Brittany Hallman wanted those in attendance to have an overview of all available funding opportunities.
"It was something Keith and I felt was a need for our region," said Hallman, referring to Upper Savannah Community Development Director Keith Smith.
"Keith and I discussed with our CDBG Grants Manager (Nate Foutch) and decided we would incorporate other funding sources to encourage participation and provide exposure to other Community Development programs," she said.
"With the overwhelming help and support of Shannon Hill and Cason Wright (from the USCOG staff) we were able to make this workshop successful," she said.
Foutch, CDBG Grants Manager from the S.C. Department of Commerce, was one of three presenters at the workshop. Also presenting were Robin Cooley, South Carolina's EDA Representative; and Liz Rosinski, Senior Program Manager/Marketing and Outreach, S.C. Rural Infrastructure Authority.
"The purpose of the Community Development Workshop was to provide information regarding available funding resources to our Upper Savannah Region," Hallman said. "It was important for us to provide our region an opportunity to network with other counties, municipalities and organizations that utilize the programs.
"The workshop allowed organizations to see the impacts of these programs, not just in our region but throughout the state. We hope the exposure to these programs and networking will promote innovative thinking, further utilizing these programs and encouraging community development. This opportunity also allowed us to familiarize them with our role here at Upper Savannah, and our involvement with these funding sources."
Hallman said the guest speakers did a "great job" presenting their funding source information. "Many of the state and federally funded programs can be overwhelming to those who are not familiar. Our guest speakers did a great job condensing the information and presenting it comprehensively," she said.
Attendees received handouts containing printed versions of the presentation and contact information associated with each funding source.
"I believe the attendees were encouraged by the opportunities available to them," she added.
For more information about community development, contact USCOG at 864.941.8050.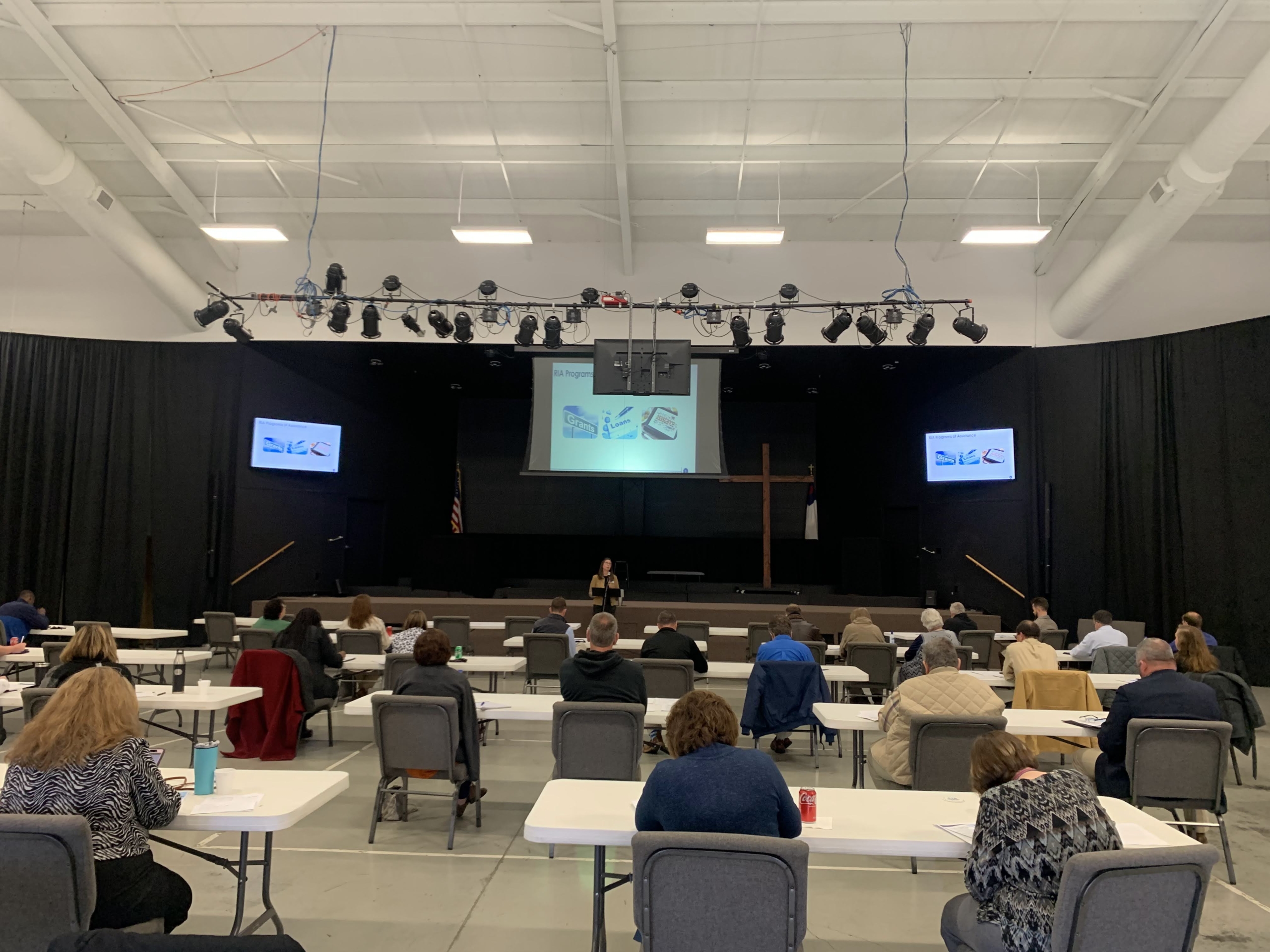 https://www.uppersavannah.com/wp-content/uploads/2022/01/IMG_20220112_110907828.jpg
1500
2000
Shannon Hill
https://www.uppersavannah.com/wp-content/uploads/2020/05/upper-savannah-council-of-governments-logo.png
Shannon Hill
2022-01-13 16:20:37
2022-10-04 13:37:21
Upper Savannah Staff Hosts Workshop on CDBG, EDA, Rural Infrastructure Funding