Redesigned USCOG Website Provides Access to Information on Many Services
Many job seekers and employers have received help from the SC Works System, family members have benefited when an aging parent receives home-delivered meals or transportation to the doctor, and thousands of residents are enjoying better water and sewer service thanks to grant awards to their communities.
These are just a few of the activities citizens in Abbeville, Edgefield, Greenwood, Laurens, McCormick and Saluda counties might be familiar with through actual experiences. But many do not know the significant role that the Upper Savannah Council of Governments (USCOG) plays in these services.
Information about these services is now easier to access.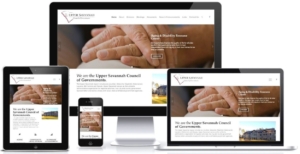 With the help of local company AJ Design and Marketing LLC, USCOG recently redesigned its website www.uppersavannah.com. The website provides information on these activities as well as a staff list of contacts.
The website can also be an important tool for community leaders who are seeking assistance for their counties, cities and towns. The website includes Census statistics for each of the six counties and their 24 municipalities in the Upper Savannah Region as well as information about COVID-19 relief funding available to eligible small businesses.
"I am really excited about our new look," said Upper Savannah Office Assistant Shannon Hill, who assisted with the website update created by AJ Design and Marketing's Andy Johnston. "Our website is so much easier to view and use, and it is easily accessible on mobile devices.
"The internet is usually the first go to place when looking for help and this site will keep us connected," Hill continued. "As someone that has been a part of bringing this all together, I am so proud of the final product and can't wait for others to see it."
Upper Savannah COG was the first multi-county planning and development organization to be created in South Carolina (in 1967) when Governor Robert E. McNair signed legislation establishing 10 planning districts.
Other planning district (councils of government) office locations in South Carolina include Greenville, Aiken, Rock Hill, Columbia, Florence, Georgetown, North Charleston, Sumter and Yemassee. Information about the other planning districts can be accessed at www.sccogs.org.
USCOG assists with a wide scope of services including help for senior citizens and persons with disabilities, workforce development assistance for employers and job seekers, community development with a focus on community improvements and infrastructure (water and sewer), grant writing and administration, transportation planning, as well as loans to small businesses and other economic development activities for the purpose of saving and creating jobs.
USCOG also offers consultation and technical assistance to local governments on a day-to-day basis. Upper Savannah provides training for elected officials and has hosted numerous workshops to get planning commissioners, zoning appeals board members and staff certified.
USCOG's imprint is all over the Region, ranging from its partnership in making Highway 72 four lanes (transportation planning) from Interstate 26 to the Georgia border, to helping bring in new industries by providing their sites with water and sewer service (economic development grants), to downtown revitalization projects in several cities and towns (community development grants), to establishing the Upper Savannah Regional Job Fair in partnership with Piedmont Technical College and other agencies (workforce development).
While this imprint will remain for decades, the individual needs of the region's citizens grow daily. For instance, a job seeker needs to connect with an employer or learn about training for a new vocation. Or a concerned family member needs the comfort of knowing that home-delivered meals, transportation or home care is available to their aging parent, grandparent or sibling. USCOG's redesigned website will help residents find information about these services.
https://www.uppersavannah.com/wp-content/uploads/2020/07/blog-featured-image.jpg
788
1500
USCOG Staff
https://www.uppersavannah.com/wp-content/uploads/2020/05/upper-savannah-council-of-governments-logo.png
USCOG Staff
2020-09-24 12:02:38
2020-09-24 12:04:52
Redesigned USCOG Website Provides Access to Information on Many Services