Administrators Hear from Consultant About Funding Opportunities in South Carolina
The last time USCOG hosted a public administrators meeting, Greenwood County Emergency Management Coordinator George McKinney was warning about a Coronavirus that was just beginning to spread into the United States. That was March 4, 2020.
At the time McKinney was speaking, there were 60 confirmed cases of the Coronavirus in the United States, and nine known deaths. Almost all the deaths were of elderly people with underlying health conditions.
There were no known cases in South Carolina at that time, McKinney said.
"It's a brand-new virus that we haven't seen before. There are still a lot of unknowns," McKinney said during the meeting.
Approximately two weeks later, the virus had exploded across the country and shutdowns began.
Fast forward about two-and-a-half years later, Upper Savannah was hosting its first public administrators lunch meeting since McKinney's appearance as the COG is re-establishing regular meetings where administrators discuss current topics over lunch.
Approximately 20 people attended last week as Mike McCauley told them about how his consulting group can assist with the abundant funding opportunities made possible by the Infrastructure Investment and Jobs Act (IIJA) and the Inflation Reduction Act.
McCauley of the Watershed Consulting Group said, "the work that we are doing has the potential to impact each of your communities."
McCauley said the consulting group offers technical assistance and help with identifying funding sources made possible by the $1.3 trillion Act signed into law in 2021.
"We have no agenda other than seeing these federal dollars come to South Carolina and get put to use," McCauley said. "Our task in this project is to work with folks like you, your agencies, cities, towns and counties, to make sure you are aware of all the opportunities under these laws."
He added, "If you have a project that you have been looking to get funding for, or an idea, or you are trying to build a team of partners to develop an application for one of these programs, we want to help with that.
"We can help do the research on the front end and find you a pile of money that might be able to fund a project that you have in mind."
He said the consulting group is fully funded, therefore there are no expenses to pursue the grant opportunities beyond match requirements.
McCauley also discussed electric vehicles, indicating federal funding is available to provide charging stations along South Carolina interstates. He said grant funding is also available for community charging stations in South Carolina.
McCauley also discussed the Clean School Bus Program, which is part of the IIJA and replaces aging buses. He said the S.C. Department of Education has applied for 367 new electric buses for 45 school districts across the state. There are eligibility requirements for these competitive grants. Each of the counties in the Upper Savannah Region have school districts among the 45.
Discussion followed for several minutes after McCauley's presentation, mostly centering on electric vehicles.
McCauley can be reached at mike@watershedconsults.com.
After the discussion, Upper Savannah Government Services Director Rick Green reminded the administrators that stormwater management grants are due to the S.C. Office of Resiliency at the end of October 2022. The grants do not require a local match.
S.C. Association of Counties Director of Governmental Affairs Kent Lesesne briefed the group about recent happenings in the S.C. Legislature.
He said while the Legislature restored the Local Government Fund which is based on county population, some rural counties lost population in the last 10 years and saw a reduction in funding. Therefore, the Rural County Stabilization Fund was established to make up some of the difference of what was lost. The funding has increased from approximately $10 million to $12 million in that Fund in 2022-23.
Lesesne also discussed legislation that disallows taxes that are disguised as user fees after three members of the General Assembly sued Greenville County over the user fees passed in 2017. The user fees were struck down by the S.C. Supreme Court.
Lesesne also discussed recent legislation to include mental injuries under South Carolina Worker's Compensation as well as the Tax Reduction Act that was passed this summer.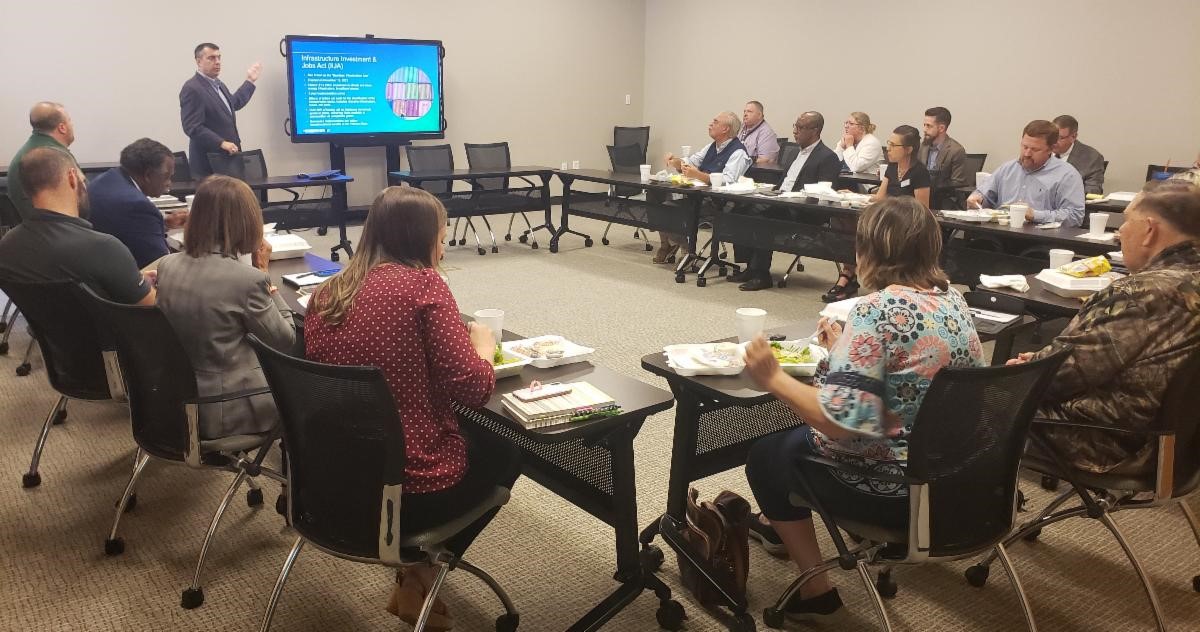 https://www.uppersavannah.com/wp-content/uploads/2022/10/Administrators-Hear-from-Consultant-About-Funding-Opportunities-in-South-Carolina.jpg
632
1200
Shannon Hill
https://www.uppersavannah.com/wp-content/uploads/2020/05/upper-savannah-council-of-governments-logo.png
Shannon Hill
2022-10-03 12:28:04
2022-10-04 11:27:54
Administrators Hear from Consultant About Funding Opportunities in South Carolina