USCOG Transportation Workshop Informs About SCDOT Programs, Provides Project Updates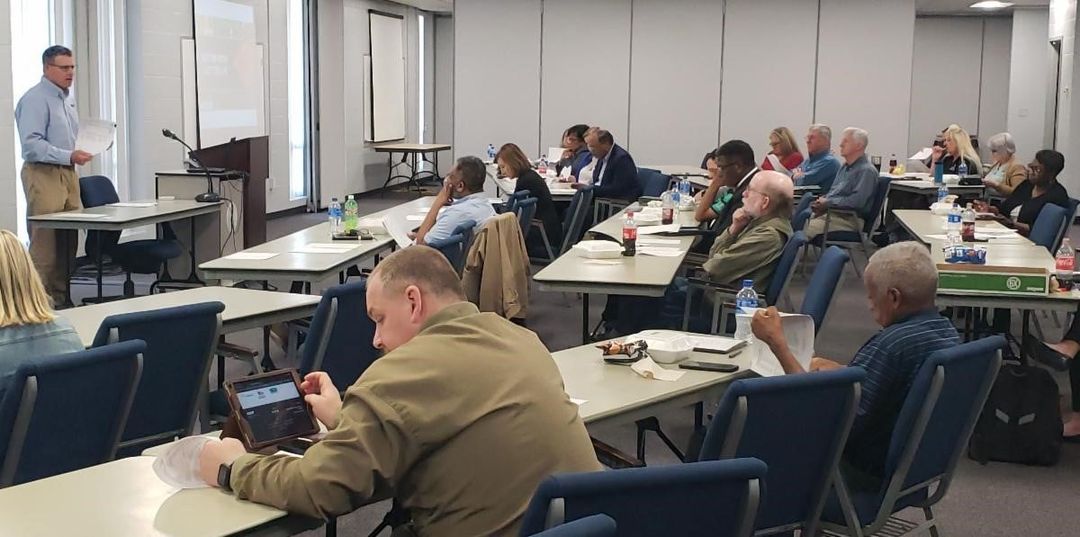 Those who attended the Upper Savannah Regional Transportation Workshop learned about the many programs within the S.C. Department of Transportation while receiving updates on current and upcoming road and bridge projects in the Region.
The workshop was organized by Upper Savannah COG and hosted by Piedmont Technical College. More than 40 attended the workshop held on April 20.
Eight speakers from SCDOT talked about their programs or gave updates on road and bridge projects.
SCDOT Deputy Secretary for Intermodal Planning Brent Rewis opened the workshop, pointing out that South Carolina has the fourth largest state-maintained system of highways in the country and that South Carolina has the 10th fastest population growth rate.
Ten-Year Plan Update
The Roads Bill passed by the S.C. General Assembly in 2017 included a gradual yearly gas tax increase that initiated and is helping fund SCDOT's 10-Year Plan to improve the state's roads and bridges.
The updated goals of the Plan include doubling the previous pace of resurfacing roads, replacing 500 bridges, improving 140 miles of interstate highways, and adding 1,250 miles of safety features on rural roads.
Rewis told the group that 5,500 miles of roads have been resurfaced, 224 bridges have been completed or are being worked on, 80 miles of interstate highways have been widened, and 713 miles of rural roads have been improved so far. Approximately $3.7 billion in projects are currently under contract, he said.
Now, an additional $250-$300 million in federal funding has been added to help South Carolina incorporate more projects to deal with growth and economic development needs. These funds represent a 30 percent increase over last year and are still subject to the same federal spending rules and regulations.
SCDOT Director of Planning Machael Peterson discussed the planning process for improving roads and bridges that include a Transportation Improvement Plan (TIP) prepared by each COG region, including Upper Savannah's 2021-2027 TIP, and the overall State Transportation Improvement Plan (STIP).
"We are selecting projects based on needs," Peterson said. "Why are we doing this project? What is the purpose of this project? What are we trying to solve with this project?"
SCDOT Statewide Planning Chief Christina Lewis reviewed the Complete Streets program which involves shared mobility including vehicles, bicycles, pedestrians and transit riders.
Highway Safety
SCDOT Highway Safety and Data Research Manager Emily Thomas gave statistics including that South Carolina had 1,200 traffic deaths in 2021, the highest traffic death rate in the nation. She said there were more than 147,000 collisions in 2021, with over 3,000 resulting in serious injuries.
Thomas said the Upper Savannah Region of Abbeville, Edgefield, Greenwood, Laurens, McCormick and Saluda counties had 4,383 collisions in 2021 with 50 fatalities and 81 serious injuries.
Thomas said 54 percent of accidents in the Upper Savannah Region were the result of roadway departures. She said the state is adding rumble strips, cable barriers, guardrails and wider/paved shoulders while cutting down trees to make rural travel safer.
She said the state is adding 35 roundabouts and planning 15 more to make rural intersections safer. Roundabouts are circular intersections in which traffic flows counterclockwise around a center island with no traffic signals or stop signs.
"We have a lot to do in South Carolina to make our roads safer," she said.
Project Timelines
SCDOT Program Manager Tyke Redfearn discussed the timeline of a road project from planning to start-up phase to construction and completion, answering the popular question, "why does it take so long?"
Once a project is selected such as a highway widening or adding turn lanes, preliminary work must be completed. That can include testing soils, locating utilities, identifying wetlands, determining if endangered species are threatened, etc.
Then comes the preliminary design of the project which must include alternatives and variations if not all goes as planned. Stakeholders and the public must be involved, with public information meetings and public hearings scheduled.
Then come right of way acquisitions and sometimes relocating utilities or railroads. Before construction ever begins, there is an engineering phase, advertising the project, receiving bids, analyzing bids and rewarding the project. Costs are astronomical, sometimes exceeding $8 million to widen just one mile of road.
During this entire process, a schedule is made to try to complete each phase in a timely manner. As Peterson said earlier in the day, "the public is usually floored by how much time it takes to deliver (complete) a project."
Current Project Updates
SCDOT Program Manager Clint Scoville and SCDOT District Engineer Kevin McLaughlin both discussed ongoing and future projects across each of the Region's six counties.
A lengthy, detailed list of completed and upcoming road resurfacing and reconstruction projects as well as intersection and bridge projects for each county was provided.
Abbeville County has had 13 resurfacing/reconstruction projects completed since 2021 with 15 more upcoming, two bridge replacements completed in 2022 (Bulls Horne Road and Vandiver Road) and one more under way (Erwin Mill Road).
Edgefield County has had five resurfacing/reconstruction projects completed since 2021 with 24 more upcoming, and one bridge replaced (Key Road over Turkey Creek).
Greenwood County has had 12 resurfacing/reconstruction projects completed since 2021 with 28 more upcoming, one intersection project completed in 2021 (SC 702 and 246), and one bridge replaced (Ridge Road).
Laurens County has had seven resurfacing/reconstruction projects completed since 2021 with 23 more upcoming, one intersection project completed (W. Main Street and Trinity Church Road) in 2021, one bridge recently replaced (Hellams Circle), and three more bridges under way (Sawmill Road, Missallie Drive and Golden Acres Road).
McCormick County has had 11 resurfacing/reconstruction projects completed since 2021 with 18 more upcoming, one bridge recently replaced (Key Road over Turkey Creek), and two more under way (Bell Field Road and Rocky Creek Road).
Saluda County has had 11 resurfacing/reconstruction projects completed since 2021 with 17 more upcoming, and four bridges are scheduled to be replaced from August 2022 to April 2023 (Richland Creek Road, Matthews Road, Rocky Creek Road and Shiloh Road).
A complete list of projects can be found on the www.scdot.org website by clicking on "Programs & Projects" and then "Project Viewer."
TAP Program
SCDOT Transportation Alternatives Program (TAP) Manager Amy Blinson provided details about grants available for local governments and school districts to fund non-motorized transportation projects.
The projects can include foot and bicycle trails, bicycle lanes, sidewalks, multi-use paths, signage, etc., and some landscaping or streetscaping in non-motorized areas. The grants of up to $1 million must include a 20 percent match and the projects must be well-defined.
Future Projects
Meanwhile, plans are to put the following intersection projects into the State Transportation Improvement Plan (STIP): Short Cut Road and Highway 25 in Edgefield County, Highways 101 and 14 in downtown Gray Court in Laurens County, and Sweetwater Road and Bypass 25 SE in Greenwood County.
https://www.uppersavannah.com/wp-content/uploads/2022/04/1.jpg
597
1200
Shannon Hill
https://www.uppersavannah.com/wp-content/uploads/2020/05/upper-savannah-council-of-governments-logo.png
Shannon Hill
2022-04-25 11:07:33
2022-10-04 13:26:08
USCOG Transportation Workshop Informs About SCDOT Programs, Provides Project Updates