USCOG Workforce Staff Produces Employment Directory for High School Seniors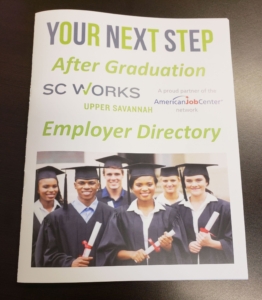 High school seniors in the Upper Savannah Workforce Area will soon be learning who might hire them and what kind of training is available as they take the "next step" after graduation.
Upper Savannah workforce staff created a "Your Next Step After Graduation" directory of employers who hire recent high school graduates and are distributing to all graduating seniors at public high schools in the Upper Savannah Workforce Area.
The Area includes Abbeville (112 seniors), Dixie (68), Strom Thurmond (175), Emerald (179), Greenwood (309), Ninety Six (106), Ware Shoals (59), Laurens (307), Clinton (192), McCormick (45), Mid-Carolina (175), Newberry (134), Whitmire (51) and Saluda (126) high schools. There are more than 2,000 Area graduates in the Class of 2021.
The directory includes an alphabetical listing of approximately 100 companies in the Area which responded to a survey indicating they hire current high school students and recent graduates. The directory includes additional information such as website addresses and whether they offer flexible hours, tuition reimbursement, etc.
"The state of South Carolina wanted us to engage with high school students because that is untapped talent for employers who are screaming that they need people," said Upper Savannah Workforce Development Deputy Director Billy Morgan, who played a major role in production of the directory.
"Not every high school student is going straight to college, and people who are going to college are looking for part-time jobs or jobs with flexible schedules so they can go to school at the same time."
The directory funded by an S.C. Workforce Development Board grant also provides information about training opportunities and assistance available for several health care programs to automotive technology, mechatronics, HVAC and welding, and several others.
The directory also includes encouraging tidbits for seniors making that next step, stressing the importance of an up-to-date resume, a good phone number, and a professional e-mail address.
The directory also includes quotes about the importance of putting forth effort, being punctual, showing the willingness to learn, and exhibiting good work ethic.
The directory also shares several interview tips that stress strong communication skills needed to land a good job.
Another page is filled with helpful tips for graduates such as not making an education or career choice based on what friends are doing, never passing up an opportunity to meet someone new, and making time to look for part-time jobs, internships or volunteer opportunities.
https://www.uppersavannah.com/wp-content/uploads/2020/07/blog-featured-image.jpg
788
1500
USCOG Staff
https://www.uppersavannah.com/wp-content/uploads/2020/05/upper-savannah-council-of-governments-logo.png
USCOG Staff
2021-05-12 11:24:24
2021-09-22 10:02:11
USCOG Workforce Staff Produces Employment Directory for High School Seniors