Census 2020 Questionnaire Return Rates Below National Average in Region, SC
Upper Savannah Government Services Director Rick Green is urging residents of the Region to fill out their Census 2020 forms after seeing the latest response rates in the 20-25 percent range for all six counties.
"Census information is very important to all our communities and to all our work here at the Upper Savannah Council of Governments," Green said. "I would like to encourage everyone who has internet access to fill out their form as soon as they can."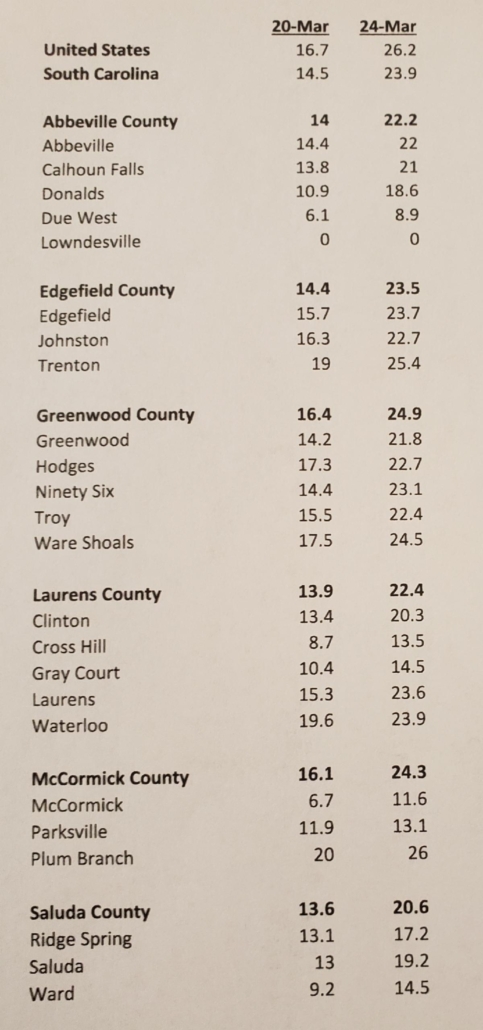 Anyone who needs help filling out their Census information online can call Rick Green at (864) 941-8072. Otherwise, they can fill out their own information with or without the Census letter at 2020census.gov.
A letter was mailed to residences beginning this month to invite citizens to fill out Census forms online showing their information effective April 1, 2020. A second letter will be sent if there is no reply, and a third letter with a Census form if still no reply. After that, if still no reply, a Census worker will visit that residence.
"Filling out the form online now means you won't have a person knocking on your door to fill out the form in person in the future," Green said. "It takes about five minutes to complete the Census form online."
City, town and county clerks and administrators recently expressed concern about the lack of Census 2020 publicity and possible lack of awareness within their communities. Census counts are crucial for federal funds and representation.
The Census 2020 national response rate as of March 24 was 26.2 percent, with South Carolina at close to 24 percent as the accompanying chart indicates.
Upper Savannah county rates range from 24.9 percent in Greenwood County to 20.6 in Saluda County.
"I don't have a point in time comparison, but ultimately in Census 2010, South Carolina had a mail-in response rate of 64.7 percent, and as of March 24, 2020 the state has a 23.9 percent response rate," Green said.
https://www.uppersavannah.com/wp-content/uploads/2020/07/blog-featured-image.jpg
788
1500
admin
https://www.uppersavannah.com/wp-content/uploads/2020/05/upper-savannah-council-of-governments-logo.png
admin
2020-03-26 08:37:06
2020-08-03 08:40:35
Census 2020 Questionnaire Return Rates Below National Average in Region, SC